01322 370484
750ml Sports Bottle
Our 750ml sports bottle is ideal for the thirsty athletes amongst us. We find this bottle very popular with gyms, football/rugby/tennis/squash clubs and corporate banded sporting events.
This bottle has the following features:
750ml fluid capacity.
One way valved, eradicates the threat of choking by blocking excessive fluid flow.
Avoids cross contamination with the implementation of a one-way valve mechanism in the cap.
Anti-slip "Grip Points".
Provides two print areas for your artwork/logo; a band of 22.78cm x 1.2cm around the top of the bottle and a main print area of 22.78cm x 13.24cm
Manufactured in highest quality "food grade" LDPE plastic.
BPA Free.
This bottle and cap is available in a variety of colours to suit your requirements. Please note, for customers ordering in larger volumes (excess of 5,000 bottles), we can manufacture the bottle in any colour in the Pantone range. For custom orders please contact us on 01322 370484.
By selecting Pricing from the menu, you can configure your own bottle and obtain pricing information.
This bottle is available in the following colours: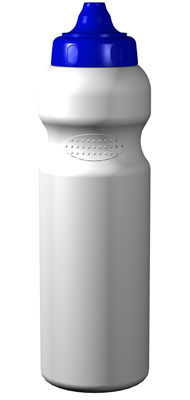 Please refer to the Caps page for available Cap colours